Marfa Book Company presents Desert Encrypts, a three-day creative music and visual art event organized by multidisciplinary artist Rob Mazurek and Marfa Book Company's Tim Johnson.
Desert Encrypts brings four internationally acclaimed artists together in Marfa, TX from July 26-28, 2019 for a series of performances and exhibitions.
This year's quartet includes Berlin-based visual artist and filmmaker, Rosa Barba; percussionist, Chad Taylor; electronic music composer and sound artist, Jan St. Werner, and musician, composer, and visual artist, Rob Mazurek.
On Friday, July 26th and Saturday, July 27th, Mazurek will premiere Desert Encrypts: Volume 2, the second volume in his ongoing composition inspired by the desert in and around Marfa, at the Crowley Theater. Nate Cross of Astral Spirits Records and Craig Clouse will spin records at the Hotel Saint George following performances.

On Saturday, July 27th, critic, writer, and gallerist, John Corbett, will read from his latest book, Pick Up The Pieces: Excursions in Seventies Music (University of Chicago Press, 2019). Corbett, widely regarded as a champion of free jazz and improvisational music, will give his take on music in the 1970s.
On Sunday, July 28, 2019, Rosa Barba and Chad Taylor will close the weekend with a sound-light performance at the Arena at the Chinati Foundation.

Mazurek will have a solo show of visual work on display throughout the weekend at Wrong (110 West Dallas Street, Marfa, TX). Wrong will host an opening for the show on Friday, July 19 from 6-9pm.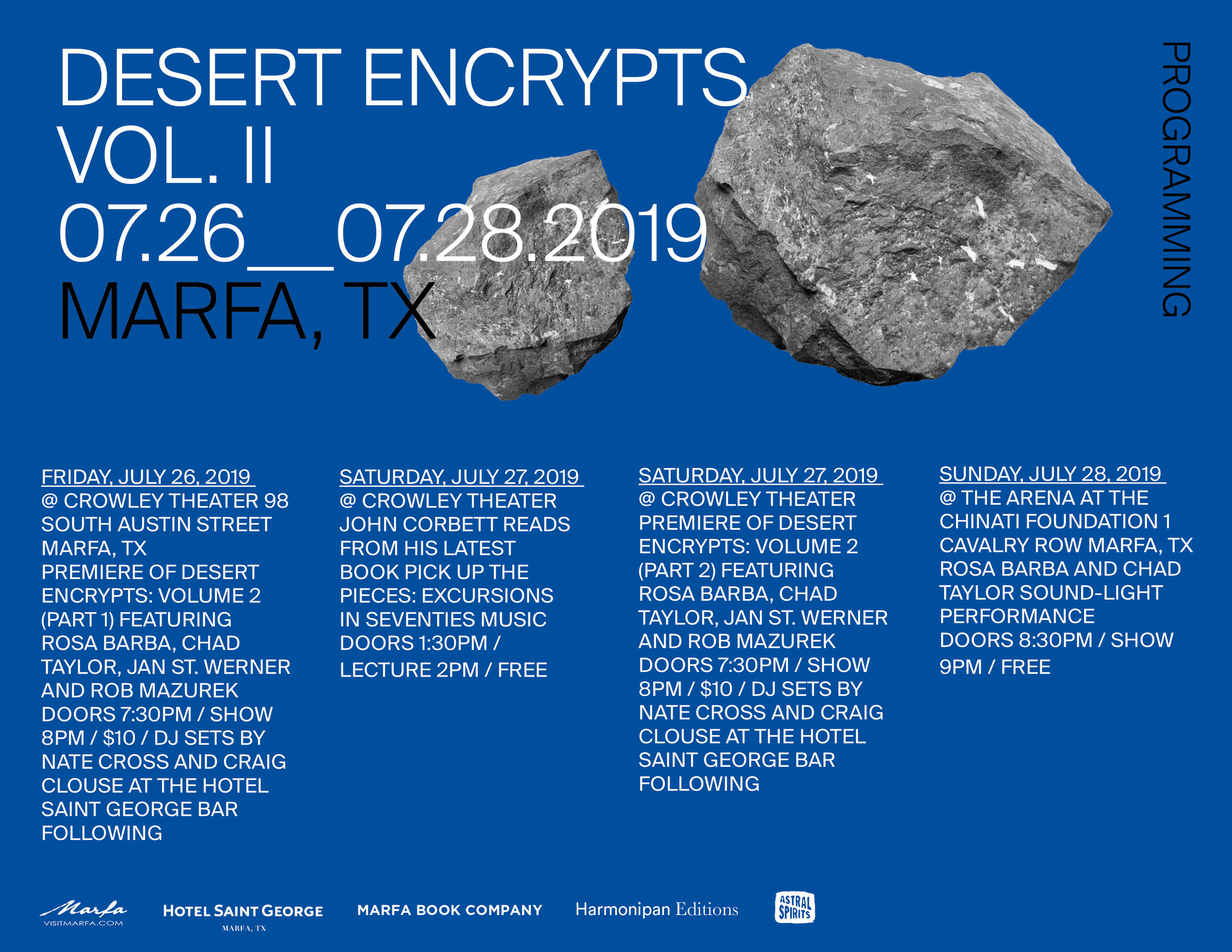 ARTISTS

Rosa Barba is a Berlin-based German-Italian visual artist and filmmaker. Barba is known for using the medium of film and its materiality to create cinematic film installations, sculptures and publications. She is part of a group of artists that address the importance of film and analog technology in the digital age along with other contemporary practitioners such as Matthew Buckingham, Tacita Dean, Luke Fowler, and Ben Rivers. Barba has previously collaborated with Chad Taylor on Hear, There, Where the Echoes Are (2016), a sound-and-light installation in synch with the rhythm of Taylor's drumbeat melody.
"Rosa Barba's work is a subtle interrogation into and co-option of industrial cinema-as-subject, via various kinds of what might be understood as "stagings"—of "the local," the non-actor, gesture, genre, information, expertise and authority, the mundane—and removals from a social realism within which they were observed, and which qualifies them as components of the work, to be framed, redesigned, represented. The effect of which her work contests and recasts truth and fiction, myth and reality, metaphor and material to a disorientating degree, which ultimately extends into a conceptual practice that also recasts the viewer's own staging as an act of radical and exhilarating reversal – from being the receiver of an image (a subject of control) to being in and amongst its engine room/s, looking out." - Ian White
Jan St. Werner (Mouse on Mars, Lithops, Microstoria, Von Südenfed) is an artist and electronic music composer based in Berlin. He has been at the forefront of forward thinking electronic music for over twenty years. As an artist concerned primarily with sound as a sculptural material, St. Werner has exhibited his work in museums. His numerous collaborators include Markus Popp and Mark E. Smith. Since the 1990's, he has collaborated with Rosa Barba on music for her installations and films. During the 2000s, he acted as the artistic director for Amsterdam's Institute for Electronic Music (STEIM). Werner has been a visiting lecturer at the Arts Culture and Technology department of the Massachusetts Institute of Technology (MIT) and holds the position of professor for Interactive Art and Dynamic Acoustic Research at the Academy of Fine Arts in Nuremberg, Germany.
Chad Taylor has been redefining the way drums can be approached for over twenty years. The Wire remarks that Taylor's "deftness, imagination and formidable technical skill make his playing a joy to listen to." All About Jazz describes his latest solo recording, Myths and Morals, as "a lively dialogue with the vibrant sounds of the world. The music acknowledges the masters that have been here before while searching for new sounds in a language that is both personal and universal."

Rob Mazurek is a multidisciplinary artist, composer, and musician, whose broad electro-acoustic palette has earned him a reputation as a respected figure in the international creative music and avant-jazz scenes. He is co-leader (with Chad Taylor) of the Chicago Underground collective, and director of Exploding Star Orchestra. His compositions utilize traditional, graphic and electro-acoustic techniques and strategies, which have consistently pushed the limits of modern music. All About Jazz remarks "Mazurek's imaginative approach encompasses limitless sonic possibilities." His collaborations include a wide cross section of leading figures and ensembles in jazz, electronic, rock, and improvised music, including Bill Dixon, Yusef Lateef, Naná Vasconcelos, Pharoah Sanders, Roscoe Mitchell, Mike Ladd, Jim O'Rourke, Kevin Drumm, Emmett Kelly, and Sam Prekop. Mazurek has exhibited his painting, print, video and installation works internationally and has received a number of grants, awards and commissions in support of his work from: the Graham Foundation for Advanced Studies in the Fine Arts (Chicago, IL), URDLA Centre International Estampe & Livre (Lyon, France), New Music USA (New York, NY), The Helen Coburn Meier and Tim Meier Charitable Foundation for the Arts (Chicago, IL), and the Robert D. Bielecki Foundation (New York, NY).

John Corbett is a writer, critic, curator, producer and co-owner of Corbett vs. Dempsey, an art gallery located in Chicago where he is based. Corbett is the author of several books, including A Listener's Guide to Free Improvisation, Vinyl Freak: Love Letters to a Dying Medium, Microgroove: Forays into Other Music, Extended Play: Sounding Off from John Cage to Dr. Funkenstein, and Pick Up the Pieces: Excursions in Seventies Music. He has edited or co-edited many books, including several on the musician Sun Ra, as well as the 125 books and catalogs produced by Corbett vs. Dempsey. He has contributed to major museum monographs on artists including Jim Lutes, Charline Von Heyl, Christopher Wool, Albert Oehlen, and Sadie Benning, and essays on Rachel Harrison and Bob Thompson. Corbett has organized musical events and festivals at the Art Institute of Chicago, the Guggenheim Museum of Art, and the Menil Collection.